Buyers' Remorse Feat. Sam Allen from Museum Detox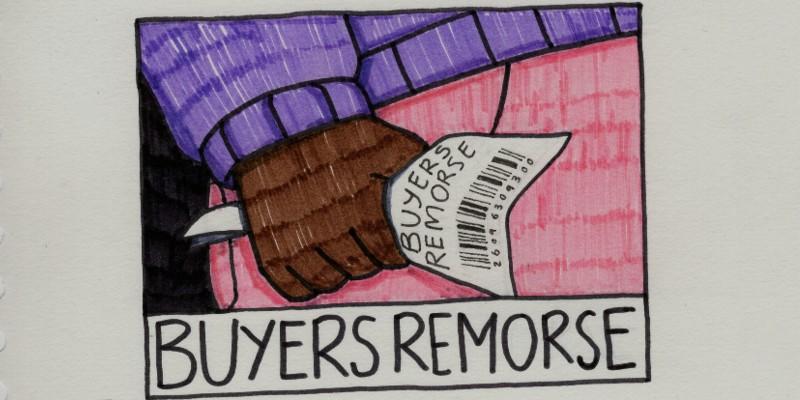 Date: Wednesday 21 April 2021, 17:00 – 19:00
Location: Off-campus
Cost: Free online event
Next up in our speaker series! Buyers Remorse is buzzed to welcome Sam Allen to the Complaints Collective (Sarah Ahmed).
Sam is an arts engagement consultant and part of the Museum Detox initiative, a grass roots network for people of colour who have experience of working in or with museums, galleries, libraries, archives, and the heritage sector.
Zipporah Blake-Gravesande and Carmen Okome (the brains behind Buyers Remorse) will be doing a live Q&A with Sam. They will be chatting about Museum Detox's activities and why there is a need for it, exploring the experiences of marginalised communities in the museum sector, prodding the role of museum studies in decolonising museums spaces, and ultimately checking in with whether museum decolonisation is possible – or should we start over?
Biography
Sam Allen is an arts engagement consultant, working internationally with museums and heritage organisations to provide authentic audience engagement through strategy, programming, events and external communications.
She is an innovator who combines strategic marketing, education and arts administration to catalyse change and has run her own arts organisation since 2014.
Sam sits on the Executive Committee for Museum Detox as Partnerships lead. She is a passionate advocate of racial activism and decolonisation in the arts and cultural heritage sectors and has a degree in Classical Studies from Reading University and a master's degree in Arts Administration and Cultural Policy from Goldsmiths University.
Booking information
This event will be hosted on Zoom.
About Buyers' Remorse
Buyers Remorse is a project initiated by Zipporah Blake-Gravesande and Carmen Okome. It is formed in response to their own and others' experiences of structural racism whilst studying Fine Art and History of Art at the University of Leeds.
The project aims to work through direct community action, towards a less colonised Leeds experience. It includes a number of different elements including an online complaints desk, artist spotlight and talks from invited artists, cultural workers and academics.
Find out more about Buyers' Remorse.
Image
Arthurs Burden, Zipporah Blake Gravesande 2020, felt-tip on A4 cartridge (12cm x 9cm).