Visiting Artist's Talk — Darcell Apelu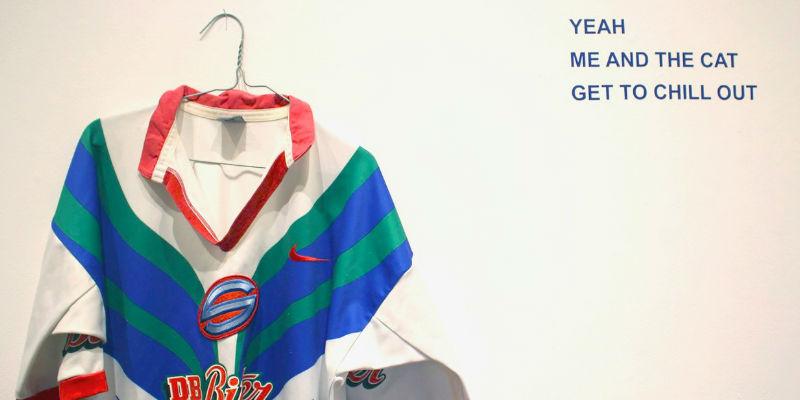 Date: Monday 7 October 2019, 14:00 – 15:30
Location: Chemistry West Block LT F (G.74)
Cost: Free
For this week's Visiting Artist's Talk (VAT), we welcome Darcell Apelu.
Darcell Apelu (b.1990) was raised in Mount Maunganui and is an artist of Niuean and New Zealand-European descent. She works expansively with moving image, sound, performance and installation, and is currently in residence at Yorkshire Sculpture Park.
Her practice is informed directly by her experiences as an afakasi female and more subtly by her background in international competitive wood chopping. Her work often uses her body as a way to facilitate experiences of 'otherness', exploring autobiographical and collective perspectives from the Pacific community in the context of western masculinist frameworks of representation and social control.
She has had solo exhibitions at the Tauranga Art Gallery (2015) and Mangere Arts Centre (Auckland, 2012), and featured in numerous group shows across New Zealand, including at the Pataka Museum (Wellington, 2018), Corban Estate Arts Centre (2018), Waikato Museum (Hamilton, 2017) and Artspace (Auckland, 2017).
The Visiting Artist's Talk (VAT) series hosts talks by an exciting range of arts practitioners from around the world every Monday afternoon from 14:00 to 15:30 during teaching weeks.
All of our talks are compulsory for our Fine Art students but open to anyone else who would like to join us.
For more information, email Nick Thurston.
Image: Darcell Apelu, How am I going to ground myself (2018). Installation shot from the Corbans Estate Art Centre. Photo: Cora-Allan Wickliffe.