Sharing Chilean and Mexican Heritage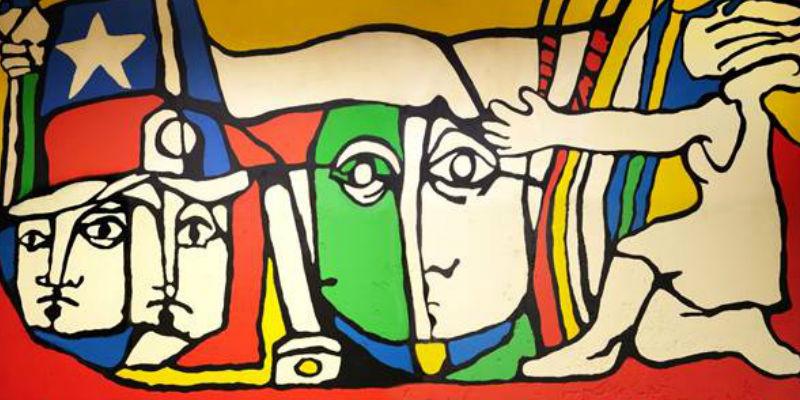 Date: Monday 16 September 2019
Location: Leeds University Union
Interval: Every day
Until: Tuesday 17 September 2019
Cost: Free
Two days of events to celebrate the history and heritage behind the Chilean Mural at Leeds University Union, as part of Heritage Open Days.
In 1976, the Chilean community painted a mural inside Leeds University Union as a way of showing solidarity against the dictator Augusto Pinochet and to welcome new refugees to Leeds. Years later, the mural was covered up by a kitchen and remained in oblivion for over 30 years.
In 2017, during refurbishment of the students' union building, a Chilean PhD student spotted a Chilean flag on the wall where the kitchen had been taken out. Thanks to the wider Chilean community in Yorkshire and Victoria Vargas (at that point an MA student in the School of Fine Art, History of Art and Cultural Studies), a programme of restoration began to bring the mural back to life.
You are invited to two days of events to find out more about the history of the Chilean Mural. The events are part of Heritage Open Days and the Global Bring & Share: Sharing Chilean and Mexican Heritage Series, in collaboration with MexSoc and the Chilean Student Community.
There is no need to book: just turn up!
Monday 16 September
Chalk painting and discover the Chilean Mural
From 16.00 - 17.30, join in with painting a chalk translation of Mexican Alebrije in the marquee outside Leeds University Union, followed by a chance to see the Chilean Mural inside the Union building.
Mestisa
From 18.00 - 19.00, the Riley Smith Hall will be the venue for a taste of traditional Chilean and Mexican appetizers, accompanied by the sound of the Latin-American music Mestisa.
Tuesday 17 September
Two documentaries will be screened in the Pyramid Theatre, linking UK solidarity networks with Chilean cases:
14:00 - 14.30: And there will be (directed by Mogs Russell and Tim Hollins) tells the story of the restoration of the Chilean Mural at Leeds University Union.
14:30 - 16:00: Nae Pasaran by Felipe Bustos Sierra narrates the story of the Scots who managed to ground half of Chile's Air Force in solidarity against Pinochet's dictatorship.
Further information
For more information, please contact Thalia Hernandez Amezcua.
Image: Restored Chilean Mural at Leeds University Union. Photo by Katherine Lacey.