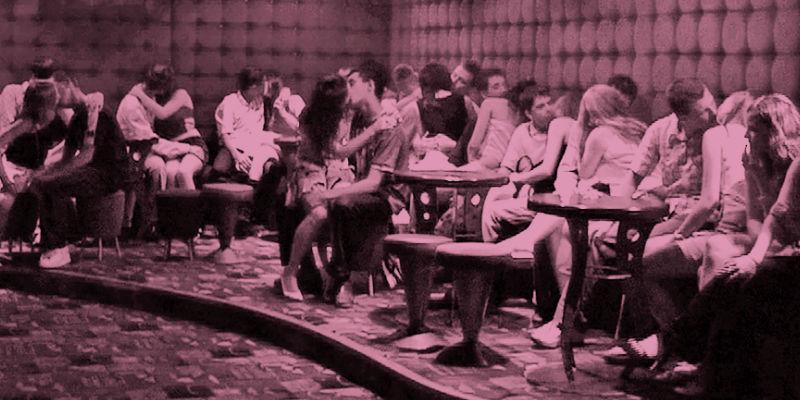 Date: Tuesday 29 January 2019
Location: Fine Art, History of Art and Cultural Studies
Interval: Every day
Until: Saturday 23 February 2019
Cost: Free
The Centre for Audio Visual Experimentation (CAVE) presents the latest in our programme of exhibitions and events in Project Space.
Almost exactly two years after the launch of our Project Space with Elizabeth Price's The Tent, we present a special exhibition in collaboration with Leeds Art Gallery and the extraordinary artist Georgina Starr.
Big V will launch on Monday 28 January (from 6 to 8pm) and will then be open to the public until Saturday 23 February.
Originally commissioned in 2003 by Leeds Art Gallery and Contemporary Art Society to make a work reflecting on growing-up in Leeds, Starr created the four-screen video installation Big V.
Focusing on the mysterious power exerted by the Virgin Mary and the female saints over the Catholic schoolgirl, the work explores a preadolescent voyage through procession, movement, dance and new-found corporeal enlightenment.
For this exhibition, hosted by the Centre for Audio Visual Experimentation at the University of Leeds, Georgina Starr has revisited the work for the first time in 15 years: exhuming and re-examining previously unused footage shot in Leeds and Lourdes. This will be the premiere exhibition of the revised and updated version of Big V.
The exhibition is open to the public Tuesday to Saturday, 10am to 5pm.
Georgina Starr will also be speaking as part of the Visiting Artist's Talk series on Monday 28 January, from 2 to 3.30pm. Please see our events page for full details.
For more information, please contact Sam Belinfante.
Image: Georgina Starr, Big V (video still), 2004.