Hope Yoemans and Matt Foster win BJTC Student Journalism Awards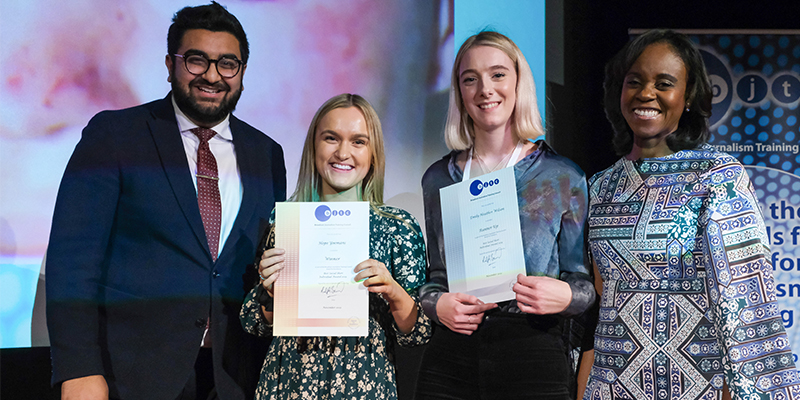 The University of Leeds has scooped two awards at the Broadcast Journalism Training Council Student Journalism Awards 2019.
Hope Yoemans (pictured second from the left) won Best Social Short Video for Bouncers. The judges said:
"Hope opened her video with strong footage of the attack which would grab the attention of a scrolling audience in a very saturated market. She went the extra mile filming additional content and using UGC well too. This was very much a video edited for online audiences and not simply a television package posted online."
Matt Foster (pictured below) won Best TV Sports Journalism for 'The Beautiful Game? Referee Abuse in Football'. The judges noted that his film was:

"A well-composed and interesting piece. With good use of footage, well-chosen interviewees and a script that didn't waste a word, Matt kept up the energy levels up throughout this feature. It made you think about the subject, too, which any good feature should do."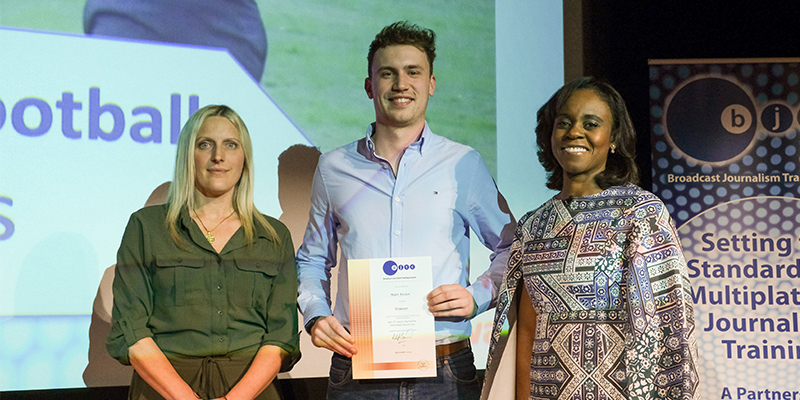 The BJTC Student Journalism Awards highlight outstanding work in TV, radio, online, podcast and social short categories. Eleven winners were chosen from more than 250 entries.

Hope Yoemans works as an Output Producer at Sky News and Matt Foster works as a Freelance Sports Journalist. Both graduated from the University of Leeds with a degree in journalism in 2019.