Celebrating 90 years of the Royal Television Society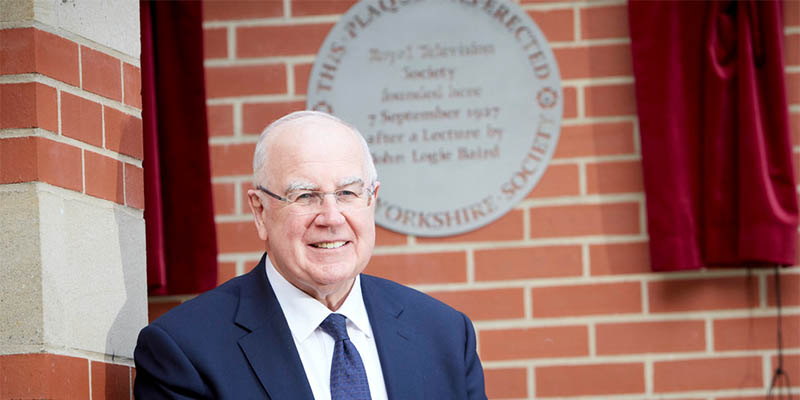 Ninety years after the Royal Television Society's inaugural meeting at the University of Leeds, the Yorkshire Society has unveiled a plaque to celebrate its anniversary.
The plaque is located on the wall of the School of Media and Communication Clothworkers' North Building.
The Royal Television Society was founded in September 1927, originally as the Television Society, following a lecture at Leeds from one of the future inventors of television, John Logie Baird.
For years, the Yorkshire Society has erected plaques to commemorate Yorkshire men and women who gave exceptional service or contributed significantly to the county during their lifetime. In many cases, their contributions have benefitted the whole country, making them excellent ambassadors for Yorkshire.
Head of the School of Media and Communication, Kate Nash, said: "In hosting the very first lecture by what would become the Royal Television Society in 1927, the University demonstrated its commitment to collaborating with the media industries to develop new media technologies and understand their social impacts.
"For the school, this commemorative plaque serves as an important reminder of our links with the Royal Television Society and of the importance of our commitment to research and teaching at the cutting edge of media developments."
David Lowen, Honorary Secretary, Royal Television Society and former Chair of its Yorkshire Centre commented: "It's an honour to have the chance to unveil the plaque to commemorate the creation of the Television Society, since 1966, the Royal Television Society.
"As one who worked for 30 years in television in Leeds, I am proud that it all started here. John Logie Baird demonstrated his 'noctovision' – what he called 'seeing by electricity' – to the British Association on 7 September 1927 and, at its close, the formation of the Society was proposed. Many of the founder members were from Leeds and Yorkshire."