School of Media and Communication hosts Women in Journalism panel led by Editor of The Mirror Alison Phillips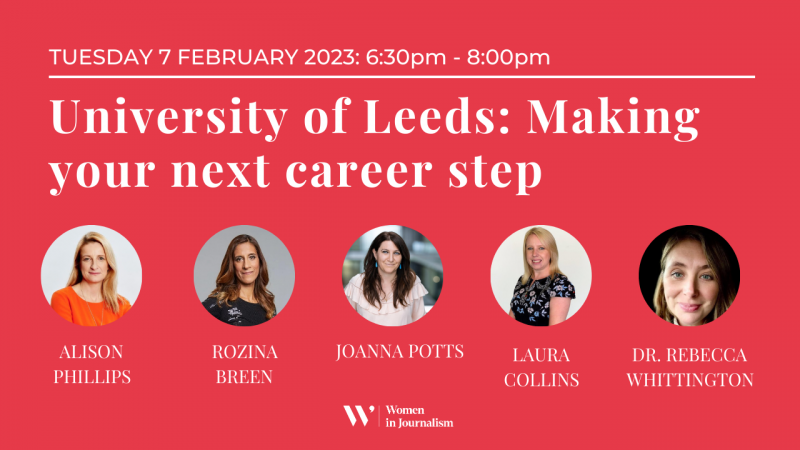 We are sponsoring Women in Journalism's first panel discussion in the North, featuring Leeds Alumni and Editor of The Mirror, Alison Phillips, and some of the region's key women journalists.
The discussion, entitled 'How to make the right next step for you and your career' is open to all University of Leeds students and staff keen to hear from journalists at the very top of their profession.
Alison Phillips, the chair of Women in Journalism, will be joined by Rozina Breen, Editor-in-Chief and CEO, The Bureau of Investigative Journalism and former Head of BBC North, Louisa Compton, Head of News and Current Affairs and Sport at Channel 4, and Laura Collins, former Editor of the Yorkshire Evening Post newspaper, now Publisher, City world.
Prior to the discussion panel, Alison will be talking about her career and some of the stories that The Mirror has broken over the past four years that have shaped our nation's politics at a special Media Futures talk 4pm – 5pm, which is open to all to attend.
The panel discussion is co-sponsored by Reach plc and the University's Advancement Team, and is also open to all Leeds University Alumni.
Women in Journalism is a non-profit making organisation and is the UK's leading networking, training and campaigning organisation for journalists.
How to join
Students and staff can book a place via My career events pages below:
External visitors can book their place on the Women in Journalism website.
About the speaker
Alison Phillips is the Editor-in-Chief of The Mirror across print and online. She got her start as a reporter at the Harlow Star, before joining the Sunday People magazine at what was then Trinity Mirror in 1998, and becoming Features Editor. She was later made Deputy Editor-in-Chief across the group before being appointed Editor of the Daily Mirror and eventually Editor-in-Chief across The Mirror. She is the current Chair of the Women in Journalism organisation. She lives in London and has three children.