Bioknit Pavillion (Exhibition)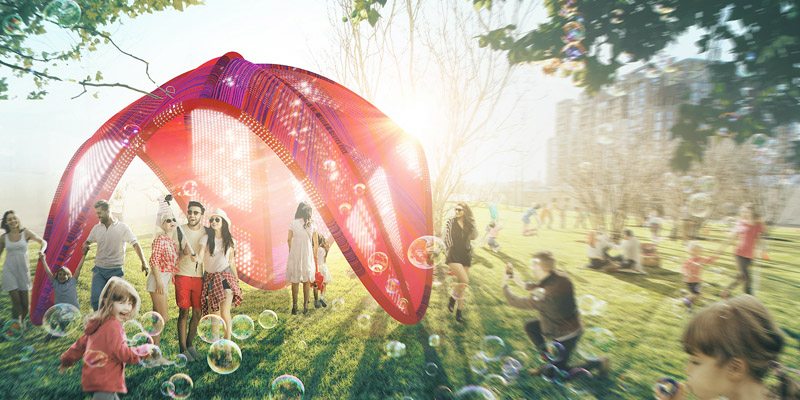 Date: Thursday 19 September 2019
Location: Off-campus
Cost: Free
An exhibition of artwork supported by and arising from the Sadler Seminar Seminar Series 2019-20
Part of the 2019 designjunction September 'activations', award-winning designers Stephanie Chaltiel (MuDD Architects - shortlisted for this year's Dezeen Awards for their MuDD Shell) and Jane Scott (an internationally renowned digital knitting expert based at the University of Leeds) are teaming up to present the Bioknit Pavilion.The collaboration between Jane and Stephanie is part of the 2019-20 Sadler Seminar Series, 'From the Cell to Sustainable Cities'.
Located in In Cubitt Park, London, The knitted pavillion will demonstrate how new textile architecture manufacturing techniques can integrate colour, materials and form seamlessly.
The dynamic curvy geometry is inspired by growth patterns in nature, using biomimetic principles derived from plant biology to inspire the form and functionality of the work. The Bioknit Pavilion is fabricated from a range of materials including sustainable recycled nylon and smart phosphorescent yarns. The textile pavilion is digitally knitted in one piece at The University of Leeds combing complex 3D form with a tactile, responsive, textile experience.
Bioknit Pavilion is the first in a series of knitted architectures that will be used as a light formwork for permanent upcoming affordable housing constructions in 2020.