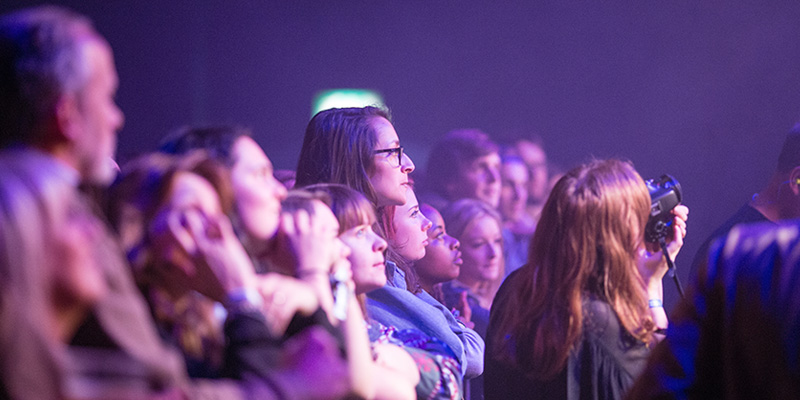 The University of Leeds has a long and established history of theatre-making. Our campus is a creative community with a rich cultural life, offering many opportunities for you to get involved or immerse yourself in theatre and performance.
Staff expertise
Theatre at Leeds encompasses expertise from across the Faculty of Arts, Humanities and Cultures, with research excellence from world-leading academics from the School of Performance and Cultural Industries, the School of English and the School of Languages Cultures and Societies.
Teaching and learning
You can choose from a wide range of courses which look at both the theory and practice of performance and theatre-making, but differ in emphasis so that you can pursue your interests:
Facilities
Studying theatre at Leeds means you'll also have access to a number of different theatre spaces and facilities available across the university campus. Our facilities provide opportunities for all the different student communities to work with each other and study theatre.
Facilities in the School of English and School of Performance and Cultural Industries offer fully equipped performance and rehearsal spaces, which are used for teaching as well as performances.
The School of Performance and Cultural Industries is home to stage@leeds, the University's public licensed theatre complex, dedicated to artist development and supporting new work. The School has its roots in the Bretton Hall legacy and continues its commitment to arts education while offering access to industry standard facilities and resources. In the School of English, the Workshop Theatre and the Banham Theatre offer performance spaces with a prestigious history.
Leeds University Union offers a number of theatre and performance societies including the University's Theatre Group, established in 1919. You'll also have access to the union's Pyramid Theatre and the Riley Smith Theatre, our oldest and recently refurbished student theatre, playing host to a wide variety of fantastic performances and ceremonies.
Working with the wider world
Many of our academic staff are also consultants and practitioners in their particular disciplines and therefore, our teaching is informed by internal and external collaboration, to make sure our courses reflect the needs of business and industry.
External links and partnerships
Our partnerships with arts and cultural organisations and our international research will enrich your learning experience.
We are proud to work with organisations such as Leeds Playhouse, Opera North, DV8 Theatre, Slung Low, Red Ladder and many more to deliver outstanding events and opportunities for students, staff and people living in Leeds and the surrounding areas. We also work closely with local institutions like schools, hospitals, Leeds City Council, as well as a range of third sector organisations.
Jack Hinckley
BA Theatre and Performance
Leeds was the only university I visited where the theatre facilities and learning spaces were at the heart of the campus, in a modern, airy purpose-built School which I think emphasises the importance it holds within the University.
View Profile