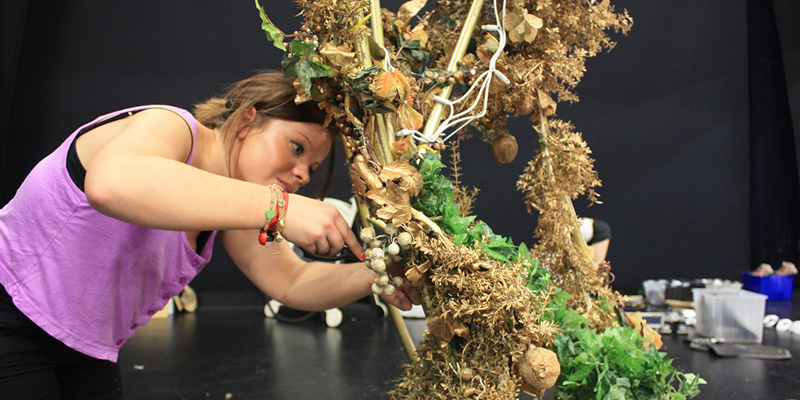 As a postgraduate student in the School of Performance and Cultural Industries you may be eligible to apply for a scholarship or award to help support your studies.
Three full fee scholarships are available for UK and international rated applicants. They will cover Full UK fee or 50% of International fee, actual amount will vary according to programme.
Applications for this scholarship for 2023 entry are now open and will close on Friday 9 June 2023.
If you are a former student of the University of Leeds you may be eligible for a 10% alumni tuition fee bursary.
The University will pay 10% of the self-funded portion of your fees for each year of the course. If no fees are paid then no bursary is awarded. If you think you're eligible, you need to contact the School's admissions team.
Postgraduate Masters Loan
If you are a UK or EU national and plan to start a full-time, part-time or distance-learning taught or research Masters course, you may be able to apply for a government-backed loan.
The Leeds Masters Scholarships aim to encourage students from under-represented groups to embark on a postgraduate qualification. The Scholarships are funded by the generous donations from our alumni through the University of Leeds Footsteps Fund and are for UK students paying postgraduate tuition fees at the UK rate.
The School of Performance and Cultural Industries at the University of Leeds is committed to increasing the representation of, and opportunities for, UK Black, Asian and Minority Ethnic students who wish to pursue Masters level study in the Arts. As part of the Leeds Masters Scholarships portfolio, the School has ring-fenced four awards, to which Black, Asian and Minority Ethnic applicants will receive priority access. These awards have been ring-fenced due to an historic under-representation within the School and more widely across the sector, and a commitment to change. To be considered for one of these awards, you must meet the financial eligibility criteria for the Leeds Masters Scholarships, be planning to study within the School of Performance and Cultural Industries, and be from a UK Black, Asian or Minority Ethnic background. For more information and to apply please click here.
Applications for 2022 entry have now closed
We are pleased to offer scholarships for forced migrants to the UK. The Sanctuary Scholarship is open to people who wish to study any undergraduate, postgraduate or research degree.
Applications for this scholarship are open until 13 June 2022.
The Snowdon Trust Scholarship supports people with physical difficulties or sensory impairments to study in the UK.
Deadline for 2022 entry closes 1 April 2022, 5pm UK time.
How do I apply?
See the Scholarships portal for further information on all our scholarships or visit the University's Masters funding page.