Sadler seminar series
Sadler Seminar Series 2020-21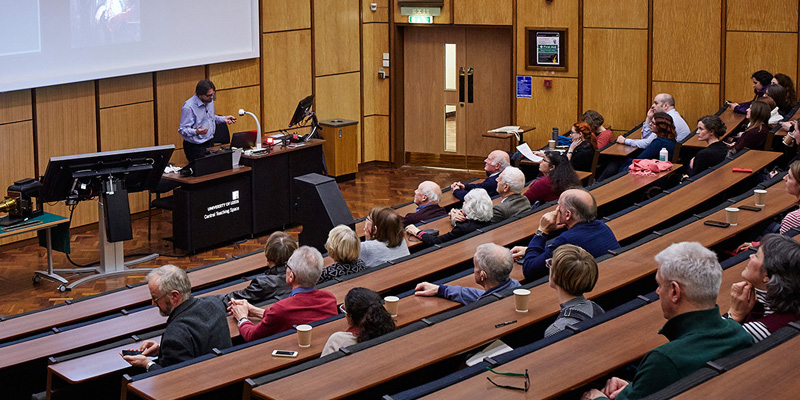 Sir Michael Sadler was Vice Chancellor at Leeds from 1911 to 1923, when he introduced a series of public events and debates on a wide variety of topics, many arts-related, in a desire to increase contact not only between researchers from different disciplines, but between the University and the wider community.
It was in this spirit that our Sadler Seminar series began in 2015. The aim of the series is to support colleagues wishing to pursue research questions that, to be answered well, require collaboration across disciplinary lines.
The Sadler Seminars run for a year with activities each semester including talks, performances, debates, outreach activities, and grant-writing workshops.
In the scheme's sixth year, we are delighted to support the following projects:
---
What are the challenges and opportunities presented by lockdown/post-lockdown for curation and exhibition of visual art, both in the UK and abroad? In this seminar series we are particularly interested in examining the impact (if any) that migration to online spaces is having on the promotion of and access to artworks produced by women and ethnic minorities.
---
Series Coneveners: Matthew Treherne (Languages, Cultures and Societies); Rachel Muers (Philosophy, Religion and History of Science); Mark Davis (Sociology and Social Policy)
How can the arts and humanities help us understand, question and imagine finance, and its changing place in the world? This project aims to explore the ways in which the arts and humanities can engage with debates on money and finance, at a time when the Covid-19 pandemic is causing profound change in the global financial system, as innovation in financial practice continues apace, and as citizens, investors, NGOs and policymakers engage with the role of finance in tackling the climate crisis.
---

This seminar series explores how Africa can serve as a starting point for articulating existing, and developing new knowledges relating to major societal challenges. This is critical to decentring Western epistemologies and politics of knowledge production, and decolonising GCRF and SDG discourses and practices.
---
Series Conveners: Joslin McKinney (School of Performance and Cultural Industries); Giorgia Aiello (School of Media and Communication); Gehan Selim (School of Civil Engineering)
Relationships between people and their urban environments are crucial in understanding the resilience of cities; the affective, creative and imaginative dimension of those relationships is important but difficult to access. Using seminars and creative workshops, we will explore opportunities for interdisciplinary research between scenography, urban design, urban communication and others such as human geography and sociology to test the potential of using scenographic methods for research into urban experience and resilience.
---