Dr Dominic O'Key
Profile
I am a Postdoctoral Fellow at the Leeds Arts and Humanities Research Institute. In April 2019, I successfully gained my PhD in Comparative Literature. My doctoral research project, 'Creaturely Forms', investigates how three celebrated writers turned to the figure of the animal at the end of the twentieth century. I suggest that these writers – W. G. Sebald, J. M. Coetzee, and Mahasweta Devi – all differently say "no" to modernity's war against animals, and in doing so their fictions glimpse less destructive ways in which humans might live with and alongside animality.
My PhD project was supervised by Dr Helen Finch and Dr Sam Durrant, and was conducted with the support of Prof Stuart Taberner's Leverhulme Trust Major Research Project "Traumatic Pasts, Cosmopolitanism, and Nation-Building in Contemporary German and South African Literature". My PhD research was fully funded by the School of Languages, Cultures and Societies and the Doctoral College.
Activities and engagement: I am an associate editor of the cultural studies and critical theory journal, parallax. Over the course of my PhD I have organised and convened a number of events. From 2015–2017 I convened the Creaturely Life reading group. In 2016/17 I co-directed Quilting Points, the interdisciplinary critical theory group. For this, Rachel Johnson and I explored the work of Hannah Arendt, and invited presentations from Profs. Simon Swift (Geneva), Patrick Hayden (St Andrews) and Lyndsey Stonebridge (East Anglia). I have also co-organised a number of workshops on World Literature and Memory Studies, including the WRoCAH-funded event World Against Globe: Reconceptualising World Literatures Today (April 2016); a joint workshop with Kings College London, Futures of Memory (Feb 2017), funded by the Leverhulme Trust; and, in May 2017, Ian Ellison and I hosted a one-day PGR conference on the future of studying W. G. Sebald, Beyond Sebald: New Trajectories in Sebald Studies, funded by the School of Languages, Cultures and Societies. In June 2018, I organised and hosted a conversation with journalist Daniel Trilling about borders, migration, and his recent book Lights in the Distance: Exile and Refuge at the Borders of Europe.
Animal studies at Leeds: I am a co-director of the Leeds Animal Studies Network and an active member of the Northern Animals collective. Caitlin Stobie and I organised the second meeting of the collective, Northern Animals #2: Animals and Borders. Hosted at the Leeds Museum's Discovery Centre, our workshop explored the concept of "borders" from an animal studies perspective. The workshop featured a store tour of the Discovery Centre's collection of illegal and confiscated taxidermy, public engagement with New Wortley Community Centre's Men's Walking Group, and an evening reading by the South African author Henrietta Rose-Innes. This event was funded by the Institute of Colonial and Postcolonial Studies, the British Society for Literature and Science, International Writers at Leeds, and the School of English.
Recent conferences and workshops: I have presented research on literature, cinema and critical theory at numerous conferences and workshops. In reverse chronological order:
Teaching and responsibilities:
I hold an Associate Fellowship from the Higher Education Academy (AFHEA), and have developed my teaching practice on various world and postcolonial literature modules. I have taught on Writing Critically (level 1), Poetry: Reading and Interpretation (level 1), Contemporary World Literature (level 3), and Postcolonial Literature (level 3).

Other responsibilities:
Research interests
My research revolves around how literature and cinema differently destabilise our understanding of the "human".
Publications
Guest editor of 'Animal Borderlands', a special issue of parallax (vol. 26, no. 2, June 2020)
'Industrial Aquacultures, Herring Fishing and Natural History in W. G. Sebald's The Rings of Saturn', in Literature and Meat Since 1900, ed. by Seán McCorry and John Miller (forthcoming with Palgrave Macmillan, 2020)
' "Entering Life": Literary De-extinction and the Archives of Life in Mahasweta Devi's "Pterodactyl, Puran Sahay, and Pirtha" ', in LIT: Literature Interpretation Theory (forthcoming, December 2020)
'W. G. Sebald's Zoopoetics: Writing After Nature', in Texts, Animals, Environments, ed. by Frederike Middelhoff, Sebastian Schönbeck, Roland Borgands, Catrin Gersdorf (Freiburg: Rombach, forthcoming 2019)
'Postscript, Posthuman: Werner Herzog's "Crocodile" at the End of the World', in Animal Biographies, ed. by André Krebber and Mieke Roscher (Basingstoke: Palgrave Macmillan, 2018), pp. 185-203. You can also listen to me discuss this paper on the Knowing Animals podcast here.
'Paul Celan and the Poetics of Anxiety', WRoCAH Journal, vol. 1 (2016)
'The First Need: Hunger in Jan Nemec's Diamonds of the Night', Studies in Eastern European Cinema, vol. 7 (2016), 102-113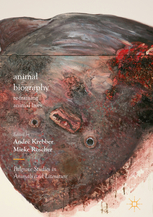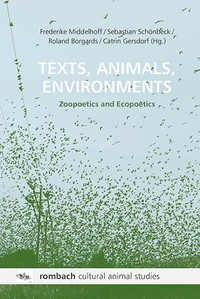 Essays and Reviews
'Look to the Piglet: on Bong Joon-Ho's Okja', Berfrois, 2017, co-authored with Caitlin Stobie
'Writing Between Species: Yoko Tawada's Memoirs of a Polar Bear', 3:AM Magazine, 2017
'Curiosity and Refusal: Werner Herzog's Late Documentaries', The Cinematologists, 2017
Find my Academia profile here.
Qualifications
PhD Comparative Literature
MA Critical and Cultural Theory
BA (Hons) English Language and Literature (International)
Research groups and institutes
Centre for World Literatures
Literary studies
Institute for Colonial and Postcolonial Studies
Critical Life Research Group
Leeds Arts and Humanities Research Institute