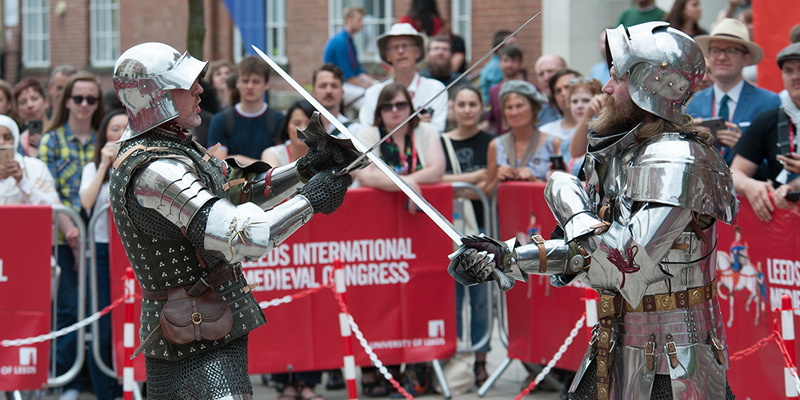 Medieval studies is a thriving research area within the School of History. Through the Institute for Medieval Studies, we are also linked to medievalists in the fields of literature, language, theology and art history across the University of Leeds. The size of our group of medievalists means that our research covers a wide range of research areas, but we particularly have strengths in the following:
Religion and Society
Religion and society is a key area of research for many of the Medieval studies research group. Monasteries and their connections with the wider world are an important theme across the whole Middle Ages, from the tenth-century Benedictine movement in England, the liturgical context of Hildegard of Bingen's music and the abbeys of Cava in Sicily to exploring Cistercian monasteries across Europe and in particular in frontier areas.
We also have a significant interest in religious reform, exploring the terminology and conceptualisation of change in religious institutions between 900 and 1150 to reform and clerical authority in the eleventh century in comparative Western-Byzantine perspective. We have conducted research into papal moves to reform institutions in the early fourteenth century and explored the high medieval papacy, in particular, the role of external influence and consensus-driven politics in determining the decisions of popes. We also link with the Health, Medicine and Society group for research on the connection between religion and medicine.
Frontiers and Warfare
Frontiers, interactions taking place across them and warfare, especially the Crusades, are another major area of research. From the Frankish frontier in Spain (Catalonia) to linguistic and ethnic identities among crusaders in both the Baltic area and in the Holy Land.
Historiography
Historiography, both modern historiography of the Middle Ages and medieval history-writing, is a major area of interest for the Leeds medievalists. Emilia Jamroziak is a member of the international network on 'New Religious Histories' that explores legacies of modernisation theory and nation-state paradigm on the historiography of medieval religious life. Several of our academic colleagues work on medieval chroniclers.
Recent projects
Visit our projects for more information.
Our expertise
Julia Barrow
Melanie Brunner
Marta Cobb
William Flynn
Emilia Jamroziak
Jonathan Jarrett
Graham Loud
Iona McCleery
Axel Muller
Alan Murray
Maroula Perisanidi

Visit our profiles for more information about academic staff researching in this area.