New Voices project supports alumna Teanne Buxton to develop her artist practice
A new project coordinated by Professor Chris Taylor and alumnus Dr John McDowall, funded by Arts Council England, has recently been launched in Yorkshire.
Funded by Arts Council England, and under the auspices of PAGES, the project is supporting three emerging artists in the development of their practices by commissioning each to produce an artist's book.
These books ― created by artists Teanne Buxton, Sufea Mohamad Noor and Sam Hutchinson ― will be presented at the 22nd International Contemporary Artists' Book Fair at The Tetley, Leeds in March 2019. Along with 25 other artists' books selected from the event, the books will then form a touring exhibition that will travel to three art venues in South Yorkshire.
PAGES was founded in 1998 and is coordinated by artists and researchers John McDowall and Chris Taylor. Around the hub of the annual International Artists' Book Fair, the initiative has provided numerous and wide-ranging opportunities for the development and awareness of the book as primary medium in art practice. Manifestations such as exhibitions, workshops, open calls and curated projects have facilitated experimentation, dissemination and engagement for audience and makers.
Arts Council England funding was awarded to PAGES for the New Voices project in January 2019. This has enabled the commissioning of three new book works, the purchase of 27 new works from the book fair, and the subsequent tour of all 30 together to venues in South Yorkshire to encourage new audiences for the artists' book genre.
The three emerging artists were selected from a short list by PAGES and The Tetley for their breadth of current social and political interests, and for showing a potential for allowing their practice to be challenged through the medium of the book.
All three artists will each develop and produce a book with funding support and guidance of three mentors, including Dr Azadeh Fatehrad (Lecturer in Contemporary Art & Curation, School of Fine Art, History of Art and Cultural Studies) and Fine Art alumna Dr Nicky Bird.
Teanne Buxton graduated with a BA in Fine Art from the School of Fine Art, History of Art and Cultural Studies in 2018. Following her degree show, Buxton's screen printed wallpaper work, Power, became an iconic piece in the School's common room.
Currently accessing the recently revived historic letterpress workshop in the School of English, Teanne's project for New Voices deals with structural racism through the words we use daily.
Teanne Buxton said:
"I was delighted when I was chosen for New Voices as I felt that it has given me focus after university and will give me the opportunity to interact with a wider audience. It has also challenged me to think and work in new ways which has helped me to strengthen my practice and my voice.
"The text I use in my work reflects and explores the way in which simple words, when displayed in a visual way, can highlight key issues within society.
"My aim is to promote discussion and raise awareness about things that are often overlooked within conversations about race."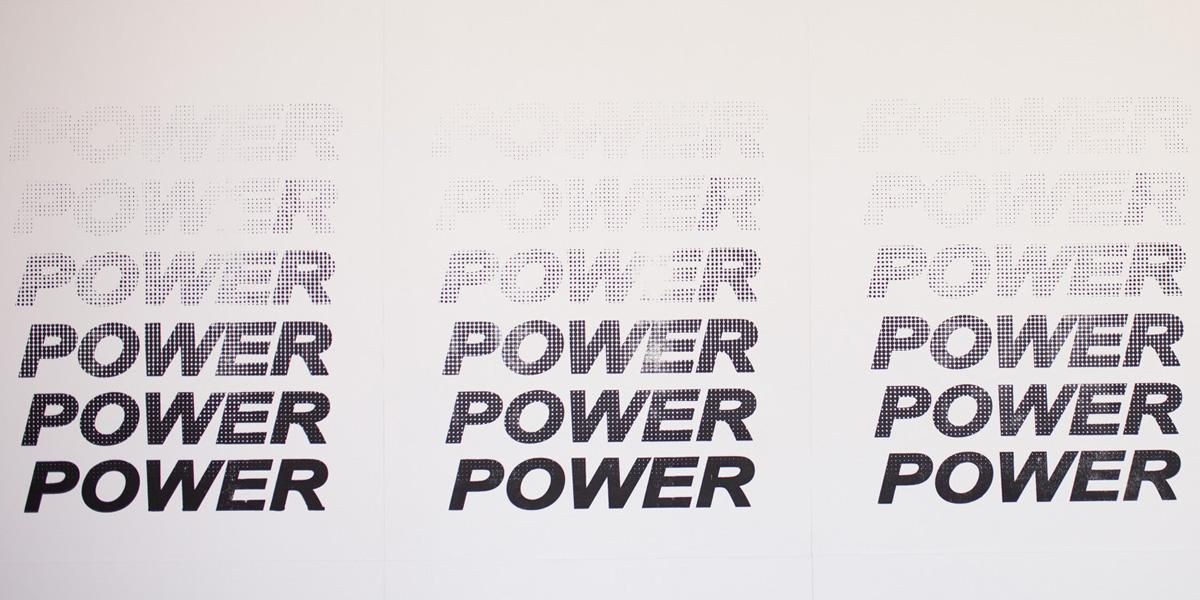 Teanne Buxton, Power, 2018
Sam Hutchinson is an artist and photographer based in Leeds. Sam's publication will use readily available image making technologies to question the distinctions between the everyday user of images, photographer, and artist, exploring the tensions between the demand for freedom of information and protection of intellectual property.
Sufea Mohamad Noor is currently an artistic director at the artist-led gallery and studios The Royal Standard in Liverpool. For the New Voices project, Sufea will create a guide for women of colour to navigate the art world. Comprising of interviews and personal reflections, the resulting publication is intended as both a work of art and a useful tool for emerging artists and curators.
Chris Taylor, Professor in Fine Art Practice at the University of Leeds, said:
"With artists' books a dynamic and direct engagement is initiated — one in which the hands-on nature makes for an interactive experience that is particularly inviting.
"The touring series of displays and illustrated talks as part of New Voices will reflect this quality of intimacy. The project will also open up conversations between artist, curator and audience."
The 22nd International Contemporary Artists' Book Fair takes place on the 2nd and 3rd March at The Tetley, and includes performances, workshops, a keynote talk and hundreds of artists' books. Full information can be found here.
The work by the New Voices emerging artists will be on tour until 6 April, visiting Rotherham Open Arts Renaissance (ROAR), Doncaster Museum and Art Gallery and the Cooper Gallery, Barnsley. There will be an opportunity at each venue to find out more about the project via a series of curators talks.
Images
Visitors at the 21st International Contemporary Artists' Book Fair, The Tetley. Photo: Jules Lister 2018
Teanne Buxton, Power, 2018