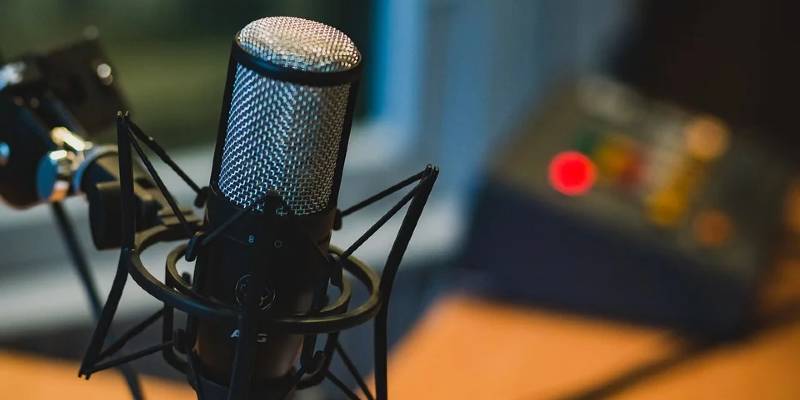 The IDEA Pod is a podcast that explores and interrogates applied ethics across a range of urgent and contemporary issues.
Released each fortnight, our podcast is presented by postgraduate researchers from the IDEA Centre and features selected guest speakers.
Our podcast gives us an opportunity to connect the academic world to the real world. We are always discussing pressing issues happening in our society; our concerns go beyond the merely theoretical, so being able to share this with a larger audience is an amazing chance to contribute to the public debate.
Season 2
Episode 1: Should information about a patient's genetic condition be strictly confidential?
The IDEA Pod returns as Dr Natasha McKeever, programme director for the online MA Biomedical and Healthcare Ethics, interviews Amaal Maqsood-Shah, an alumnus from our campus MA programme, about her MA dissertation topic – the confidentiality of information about patients' genetic conditions.
Despite guidance permitting clinicians the discretion to breach confidentiality, clinicians maintain confidences against a backdrop of litigation fears. As genomic medicine advances to return more information on the heritable basis of conditions, there is an increasing need for clinicians to understand when, and how, to communicate genetic information to at-risk relatives (The British Society for Genetic Medicine, 2017).
Amaal's dissertation seeks to challenge current guidance and provide an ethical case for the non-consensual disclosure of all genetic information generated by the proband to biological relatives.
Released 19 January 2021. Presented by Natasha McKeever.
Episode 2: Enron and corporate responsibility
Our special guest for this episode is Ken Lewchuk, a chartered accountant who worked for Enron before its collapse. Ken's first degree was in theology, he has an MBA from Heriot-Watt University, and he recently completed an MA in applied and professional ethics with the IDEA Centre.
Graham Bex-Priestley interviews Ken about the issue of responsibility for corporate failure. In the context of Enron, Ken argues against the common view that it was "a few bad apples" that brought the house down.
To understand the problem we must consider the culture that was fostered in the corporation collectively (which extends all the way back to what was taught at business school) instead of focusing on individual behaviour in isolation. Ken brings together themes from several disciplines - including psychology, economics, the philosophy of agency, and the ethics of blame and punishment - to provide an explanation for what went wrong and a suggestion for what we should do to prevent similar catastrophes from happening in the future.
Released 2 February 2021. Presented by Graham Bex-Priestley.
Episode 3: In search of a 'good death' – How best should doctors care for dying patients?
In this episode we have special guest Matt Murray. Matt is a medical student at the University of Leeds, who previously intercalated on the MA in Biomedical and Healthcare Ethics at the IDEA Centre. The presentation and subsequent discussion are based on the dissertation that Matt completed during his MA at IDEA on the duties and ethics surrounding end of life care for the medical professional.
Matt's dissertation was supervised by IDEA lecturer Sarah Carter-Walshaw, who joins him in this episode to discuss his research. Matt and Sarah discuss how we in society understand health and death (especially the latter), and why there is an ethical imperative to change the way that the medical profession perceives and approaches death and dying.
Released 16 February 2021. Presented by Sarah Carter-Walshaw.
Episode 4: The ethics of policing
What does an ethical police officer look like? How ought we to judge the "Dirty Harry" style cop who gets results by any means? Should police to see themselves as "good guys" out to catch villains? And, must police officers "dirty their hands" in order to be truly ethical?
Detective Garda and MA in Applied and Professional Ethics, Thomas O'Connor, offers a unique and compelling perspective on these questions in conversation with his former MA supervisor, Dr Josh Hobbs.
Released 2 March 2021. Presented by Josh Hobbs
Episode 5: Is it permissible to incentivise the sterilisation of addicts?
'Project Prevention' is a growing organisation in the US that aims to achieve the sterilisation of addicts, and offers monetary incentivisation to do so.
In her dissertation, Georgina James engages with the question of whether it is morally permissible to incentivise the sterilisation of addicts, and whether something similar may be introduced to the UK. The talk discusses the concepts of autonomy, best interests, public interest and issues of exploitation and commodification. Georgina's dissertation provided a strong argument against the permissibility of any such sterilisation of addicts.
Released 16 March 2021. Presented by Tom Hancocks
Episode 6: AI and Philosophy Workshop
In this episode, we comment on one of the latest events held at the IDEA Centre, the AI and Philosophy Workshop. Postgraduate Researcher Gabriela Arriagada Bruneau speaks with Zach Gudmunsen, fellow co-organiser of the event and Michael Cannon, co-author of one of the presented papers. This episode covers different talks in the workshop, dividing them into two themes:
Theory:
Dr David Strohmaier - "Ontology, neural networks, and the social sciences"
Professor Vincent C. Müller - "Orthogonality and Existential Risk from AI
Dr Ioannis Votsis - "Machine‐Made Jabberwocky?"
Practice:
Professor David Hogg - "AI and Common sense"
Dr Paula Boddington - "Philosophy of AI through the theory and practice of dementia"
Professor John McDermid - "Embodied AI: Autonomous Systems and Ethics"
We finish by commenting on the Future challenges for the development of AI.
Released 30 March 2021. Presented by Gabriela Arriagada Bruneau
Episode 7: Integrity
In this episode, we explore the concept of identity. It's a buzzword that many businesses and institutions use and present as part of their ethos, but do we really have clarity as to what integrity actually is or what it implies?
Dr Jim Baxter (IDEA Centre) and Tracey Groves (Intelligent Ethics) walk us through understanding what integrity is, how it impacts businesses and how the role and impact of integrity has changed over time.
Released 27 April 2021. Presented by Gabriela Arriagada Bruneau
Episode 8: What's wrong with formalising ethics for AI?
Meet special guest Christian Herzog, a researcher at the Institute for Electrical Engineering in Medicine at the University of Lübeck and Head of the Ethical Innovation Hub. Christian recently completed an MA in Applied and Professional Ethics at the IDEA Centre and published two papers based on his research for this course, linked below.
Graham Bex-Priestley interviews Christian about his work on the problems with formalising ethics for implementation in artificial intelligence. What seems at first to be a merely technical issue ends up touching on the contentious topics of inclusive deliberation, moral understanding, relationships of power, and the ideals of democracy. Is there anything wrong with an AI using "deep learning" to essentially trawl the internet and aggregate the moral opinions they find? Christian bounces off Foucault and Habermas to explain what he thinks is missing from such approaches to machine ethics.
Herzog, C. On formal ethics versus inclusive moral deliberation. AI Ethics (2021). https://doi.org/10.1007/s43681-021-00045-4
Herzog, C. Three Risks That Caution Against a Premature Implementation of Artificial Moral Agents for Practical and Economical Use. Sci Eng Ethics 27, 3 (2021). https://doi.org/10.1007/s11948-021-00283-z
Released 11 May 2020. Presented by Graham Bex-Priestley.