Judith Tucker shortlisted for Jackson's Open painting prize 2019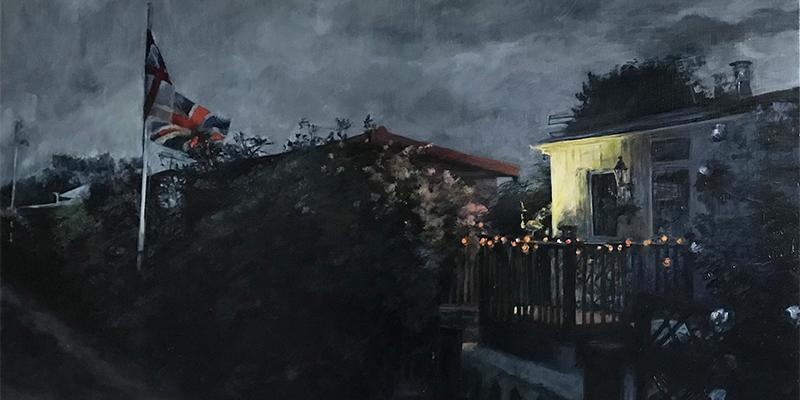 Dr  Judith Tucker, Senior Lecturer in Art and Design. has had a painting selected for the shortlist in Jackson's Open Painting Prize 2019.
This work is in the top 1% of the competition; it is one of the 45 successful entries, that have been carefully selected from 5366 international submissions. The paintingThey'd have a party and everyone could go is one of her Night Fitties series. She has worked since 2013 on and with a contested coastal community on one of the U.K.'s last existing plotlands, the Humberston Fitties in North East Lincolnshire. Here, since the 1900s, local people and visitors have erected their diverse dwellings, in order to enjoy the simple, restorative pleasures of seaside life. This series explores the play of light and dark and the uncanny transformations of the chalets that take place after hours as well as notions of vulnerability, occupation and emptiness. The work considers, in the shadow of recent dramatic political changes, how notions of place and identity are constructed on domestic and larger scales, as reflected by the play on flags and other indications of Englishness.
In addition, Dr Tucker also recently enjoyed exhibition success, her symposium which accompanied her recent collaborative exhibition Outfalls at the Groundwork Gallery Norfolk (the only gallery in the UK to specialise in Art and the Environment) led to an interdisciplinary panel being convened and accepted for the Association of Literature and Environment Conference at University of California, Davis, USA in 2019. She was invited by the Institute of Contemporary Art (ICA) London to give a public talk on her work. She was also invited to contribute to Arts and the Artist in Landscape and Environmental Research Today symposium at the National Gallery, London.
She was also one of eight British artists invited to take part in the first Sino-British Contemporary Art Biennial in Yantai China where she also gave a public lecture at Yantai University , contributed to a symposium, gave a performance and contributed to a public workshop (September 2018) and as a result of networking the School has shown contemporary paper cuts from Shandong province next year and she has been invited to curate an exhibition of Leeds based artists at Yantai Art Museum in 2020.